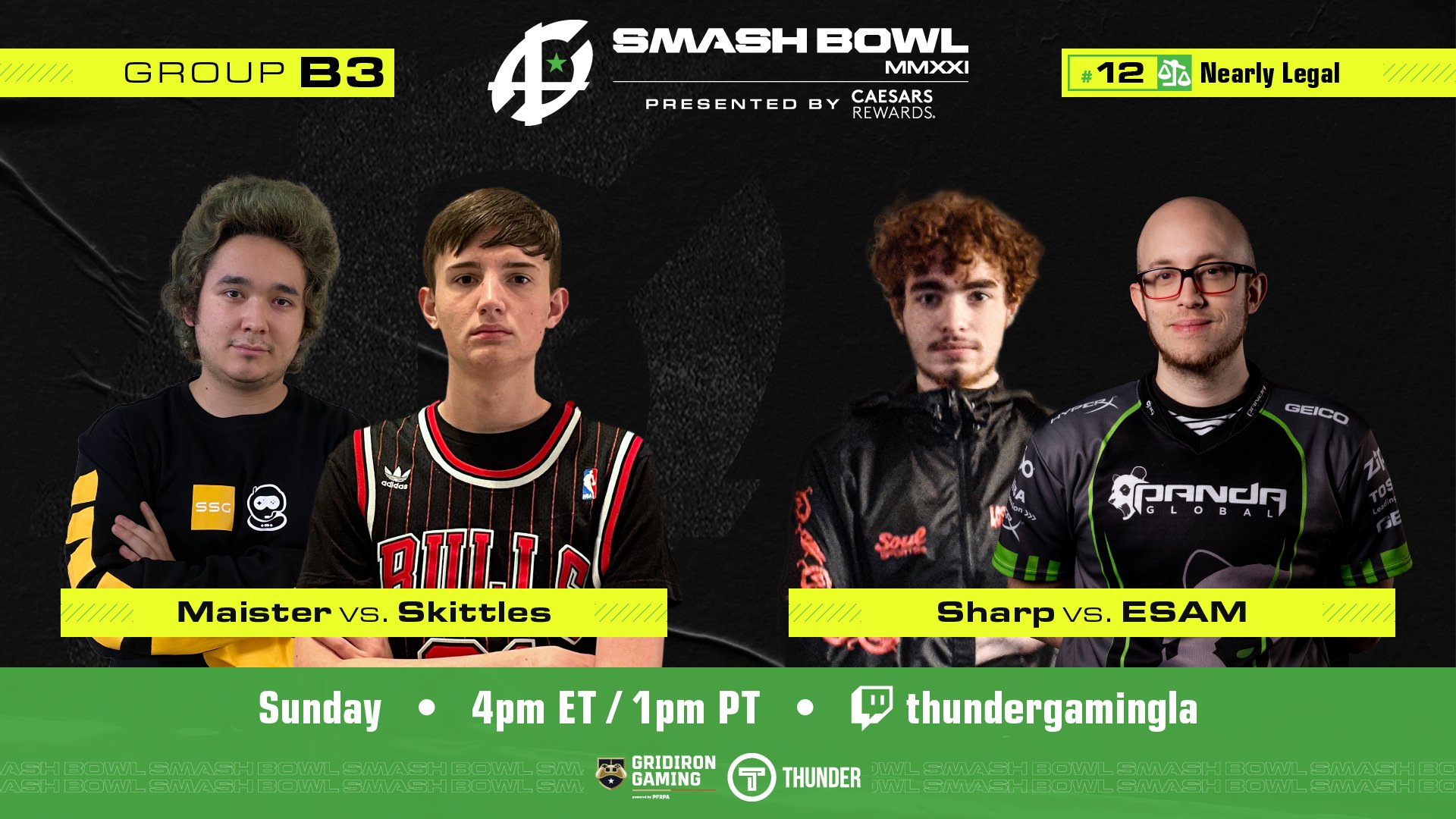 Analysts Desk: Week 11 Recap
As we enter the final week of Smash Bowl MMXXI's second stage, it's time for another recap!
This past Sunday, Group B3 played using the "Nearly Legal" ruleset, which used stages and formats that had the potential to be the competitive standard around the time of the game's release but didn't make the cut. Aside from the stages, the biggest change here was the addition of the Final Smash meter, which allowed characters to charge a Final Smash attack by dealing or receiving damage. 
Unlike many previous groups, B3 actually went mostly as seeded, with Noah "Sharp" McCulley advancing to the Final Stage through the winners' bracket and Enrique "Maister" Hernández advancing through the losers' side.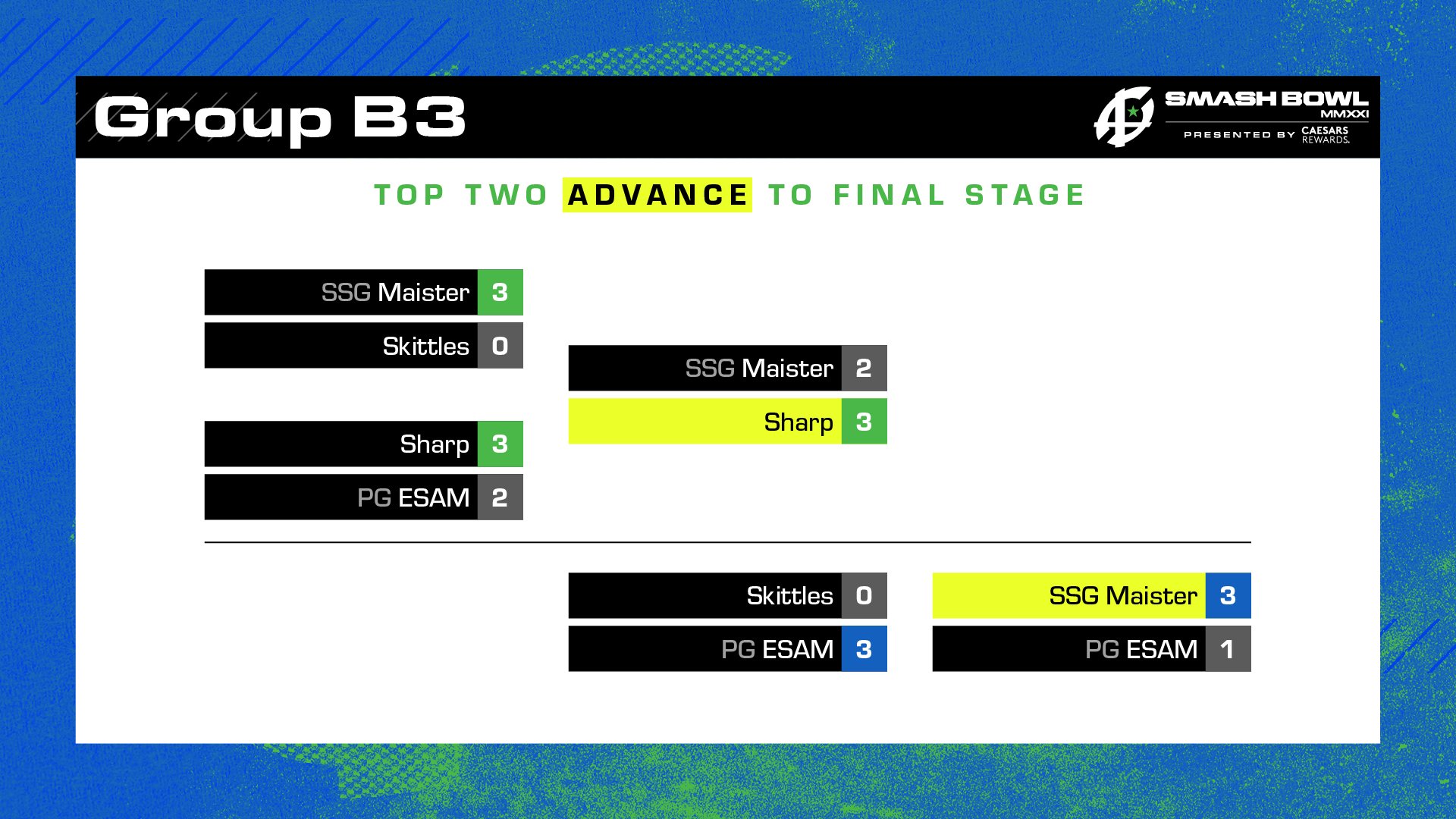 The first set was between Maister and Tanner "SKITTLES!!" Jordan. Skittles was the underdog in this matchup and seemed to be in control during the first game. However, after an unfortunate self-destruct in the final stock, Maister was the first player on the board. Skittles ran the first match back, choosing to go to the same stage in the same matchup. This time, both players had adjusted to the new ruleset, and Skittles hit the first Final Smash of the day to close out the first stock. However, Maister managed to even out the stocks and take game two by reading Skittles' roll. Skittles chose the same setup in the third game, but Maister took control almost immediately after taking the first stock with his Final Smash. Maister won the set 3-0. 
On the other side of the winners' bracket, Sharp faced off against Pikachu specialist ESAM, who quickly took control of the match using Pikachu's unique projectiles. Sharp's joker was outclassed and lost the first two games, the second being a much more convincing victory for ESAM. This loss prompted Sharp to switch his character to Wolf, who proved to have one of the best Final Smash attacks in the game. He used it to take his first game, putting himself on the board, albeit with a one-game deficit. During game four, ESAM tried to change his strategy by switching to Min Min, but Sharp completely overwhelmed him and won the game with a three-stock lead. In game five, ESAM went back to Pikachu and seemed to perform much better than he was in game three. However, on Sharp's final stock, he took ESAM's second stock with a nearly full Final Smash meter. Sharp quickly capped off his meter after landing a few hits on ESAM and ended the game with a short combo into his Final Smash, netting him a 3-2 victory. 
In winners' finals, Maister aimed to repeat his first set with a 3-0 victory. He made much more use of his Final Smash than in his first set and quickly took a 2-0 lead. However, Sharp began to use his Final Smash as a reversal to recover and escape from Maister's combos, allowing him to take game three. Maister caught on to this quickly, and started avoiding Sharp's Final Smash attacks when they were near the ledge. After missing his own Final Smash, Maister left himself vulnerable,and Sharp was able to tie up the score 2-2. During the final game, the players were mostly even until Sharp had an unfortunate self-destruct, putting Maister up by an entire stock. Sharp tied the stock count back up, but Maister came back on his last stock with a nearly full Final Smash meter. He quickly filled it and used it to grab Sharp, but Sharp was able to escape, forcing Maister to play out the stock normally. Maister quickly took control and dealt massive amounts of damage to Sharp. By doing so he, filled up his Final Smash meter. Sharp used his Final Smash to make a complete reversal and take the set in 3-2 victory, much like his set with ESAM.
Over in the losers' bracket, ESAM was making quick work of Skittles. He quickly took the first two games, using the unique vertical stages to his advantage and avoiding Skittles' horizontal Final Smash attacks. During the third game, Skittles brought ESAM back to the first stage they played on, Fountain of Dreams. It seemed to be a repeat of game one until Skittles evened up the stocks by landing a Final Smash attack. ESAM still had a lead, but after missing his own Final Smash, Skittles seized the opportunity to even up their percent. The game went down to the wire, but Sharp was a few moments too late when he tried to grab ESAM, giving him time to dodge. ESAM quickly punished the whiffed grab and took the game with a 3-0 victory.
In the final set of the day, Maister played against ESAM, which was an uphill battle for ESAM based on the two's match history. He avoided using his signature Pikachu, opting to try his Min Min instead. This choice seemed to work out at first, and he took a sizable lead. However, Maister grabbed ESAM with his Final Smash attack early into ESAM's stock. Normally, this would be a waste of a Final Smash since players can break out of Mr. Game and Watch's attack, which ESAM did. But, ESAM used his double jump before getting grabbed, which gave him very few resources to get back to the stage. He ended up losing his stock at a mere seven percent, and losing game one as well. In the next game, ESAM went with Pikachu, but Maister had a dominant victory and went up 2-0. ESAM made one final switch, this time to Ike, a character he's certainly not known to use. It came as a surprise when he started the game with a zero-to-death combo on Maister, and even more of a surprise when he took the third game handily, putting the score at 2-1. Going into game four, Maister immediately reversed the momentum of the set with his own zero-to-death. ESAM wasn't able to recover from this deficit and lost the set 3-1. 
Next week, Group B4 will compete in the "Food Fight" ruleset, which uses stamina mode with 75 HP, food items on high, and an otherwise standard setup. This ruleset will likely favor players who can maintain strong stage control and faster characters that can pick up food items quickly. With that said, the relatively low health pool could result in some stocks ending in a few short exchanges.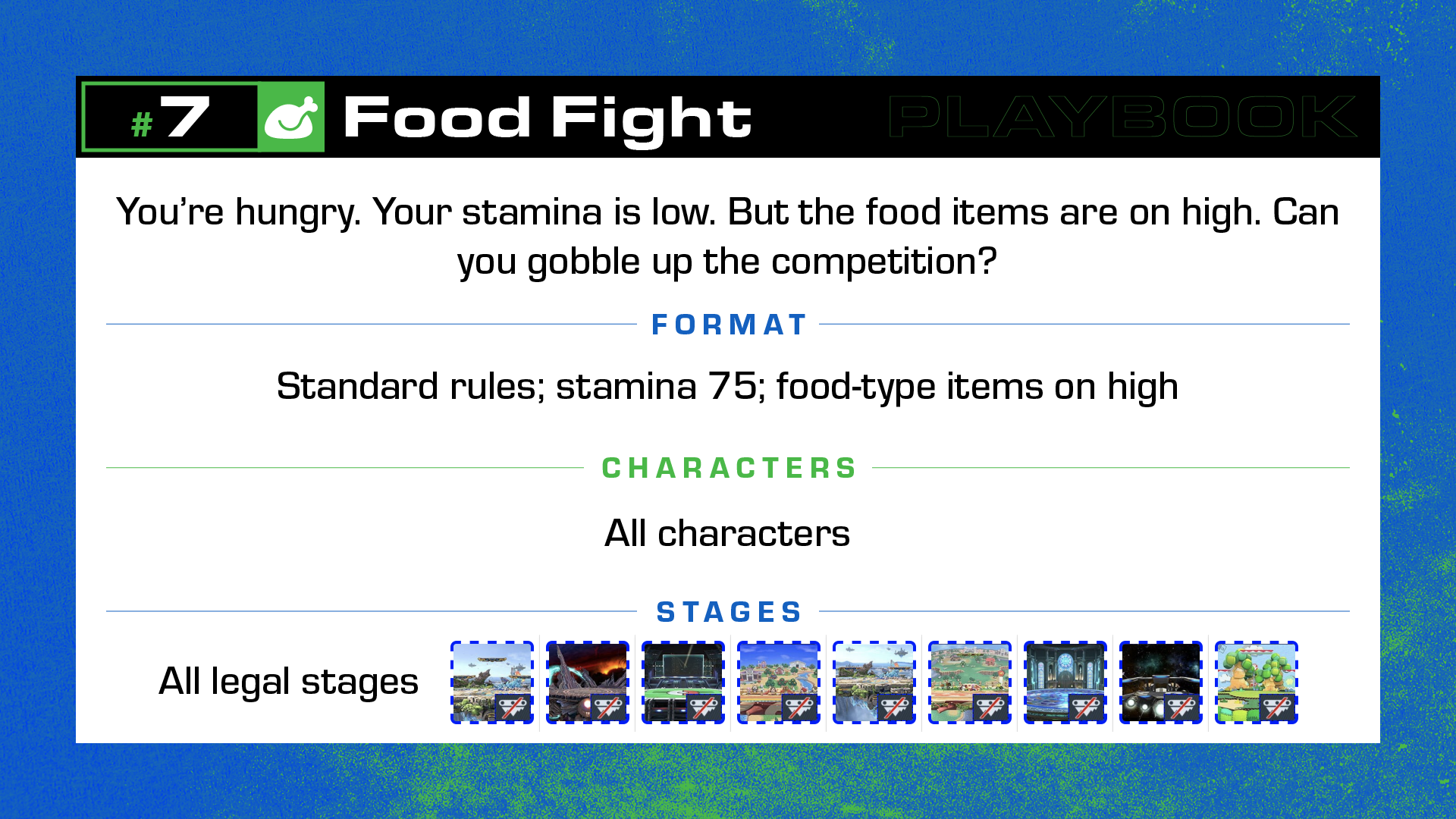 The first captain of Group B4 is Myles "Myles" McKenzie, who advanced through the winners' side of Group A4, which used the "Phone a Friend" ruleset. Myles' partner was Rasheen "Dark Wizzy" Rose, a player of much higher rank than him. It may seem like his wins were a fluke, but in their winners' finals match, the duo managed to beat Leonardo "MkLeo" Lopez Perez, the highest-ranking player on the Panda Global Ranking, in a 3-0 victory. Myles is also ranked 40 on the Wi-Fi Warrior Ranking. 
Myles' opponent is Tyler "Marss" Martins, who is often considered the best Zero Suit Samus (ZSS) player in the world. He advanced through the losers' side of Group A5, which used the "Randoms" ruleset. While this ruleset didn't allow him to use his experience as a ZSS specialist, he still managed to win several poor matchups throughout the bracket. He currently has a 4-1 record against Myles and will have the chance to use his main freely. While this ruleset still isn't exactly standard, the odds seem to be stacked in Marss' favor. 
The second captain of Group B4 is Yezre'el "Yez" Askew, who advanced through the winners' side of Group A7, which used the "Sakurai Says" ruleset. Yez had a surprising run through his group, considering he was seeded to be eliminated. Despite the unorthodox ruleset, he managed to control the pace of most of his matches and force his opponents to play around his long attacks and the items that spawned on stage. This experience will probably come in handy this week, considering the ruleset will value players with strong stage control and awareness.
Yez's opponent is a rematch from his group. Spencer "BestNess" Garner, who was seeded to beat Yez in Group A7, lost their match 4-1. Yez chose BestNess as his opponent, likely because of his previous Smash Bowl win, but BestNess has a 7-3 record over Yez in 2020. In a more standard ruleset, BestNess has the advantage, but Yez has already shown a stronger ability to have items on while playing. 
Based on the current player head-to-head records, BestNess actually has the best chance in this group, with positive 2020 records over everyone aside from his 1-1 record with Marss. However, as we've seen nearly every week of this event, the ruleset will likely shake things up. 
You can watch the action Next Sunday, January 17th at 4 p.m. ET/1 p.m. PT on Thunder Gaming's Twitch channel: https://www.twitch.tv/thundergamingla. 

If you'd like to see the bracket, or learn more about the rulesets and format, you can check out our smash.gg page: https://smash.gg/tournament/smash-bowl-mmxxi/details. 
Writer's Note: This article was written in collaboration with Andrew "PracticalTAS" Nestico, Data Analyst.