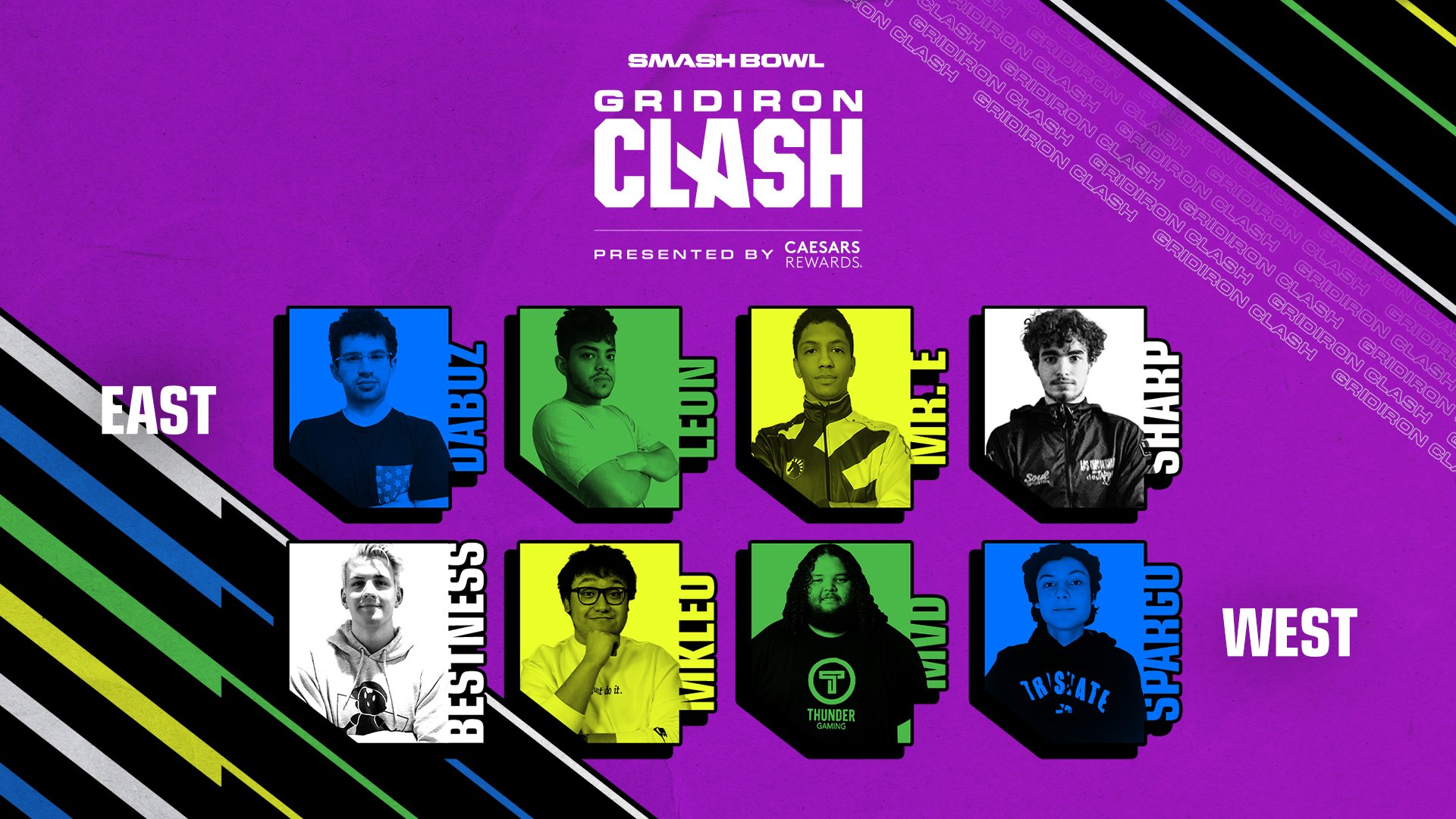 Analysts Desk: Week 14, Gridiron Clash Recap
With the conclusion of Smash Bowl MMXXI, Gridiron Gaming and Juan "Hungrybox" Debiedma hosted a final invitational event with some of its competitors — Gridiron Clash.  The event, which took place this past weekend, saw eight of the strongest players present in Smash Bowl from the East and West coasts battle in several best-of-five standard rule sets throughout both Saturday and Sunday.
The first day of the event had two separate round-robin pools, one for the East Coast competitors and one for the West Coast. The two players with the most wins from each pool were added to the winners' side of the final bracket and seeded to play against players of the opposite pool. The other two players in each pool were seeded into the losers' side of the final bracket.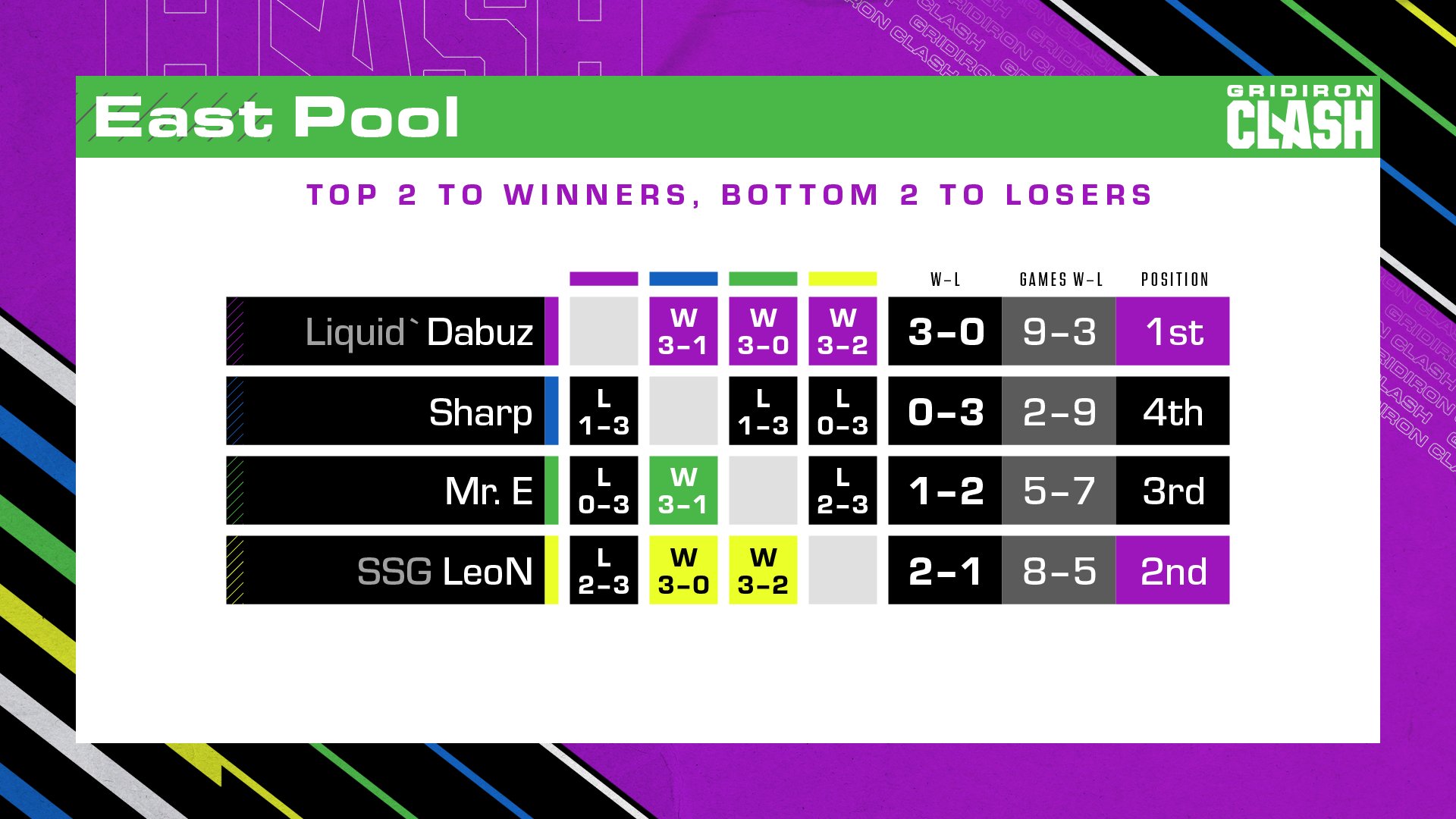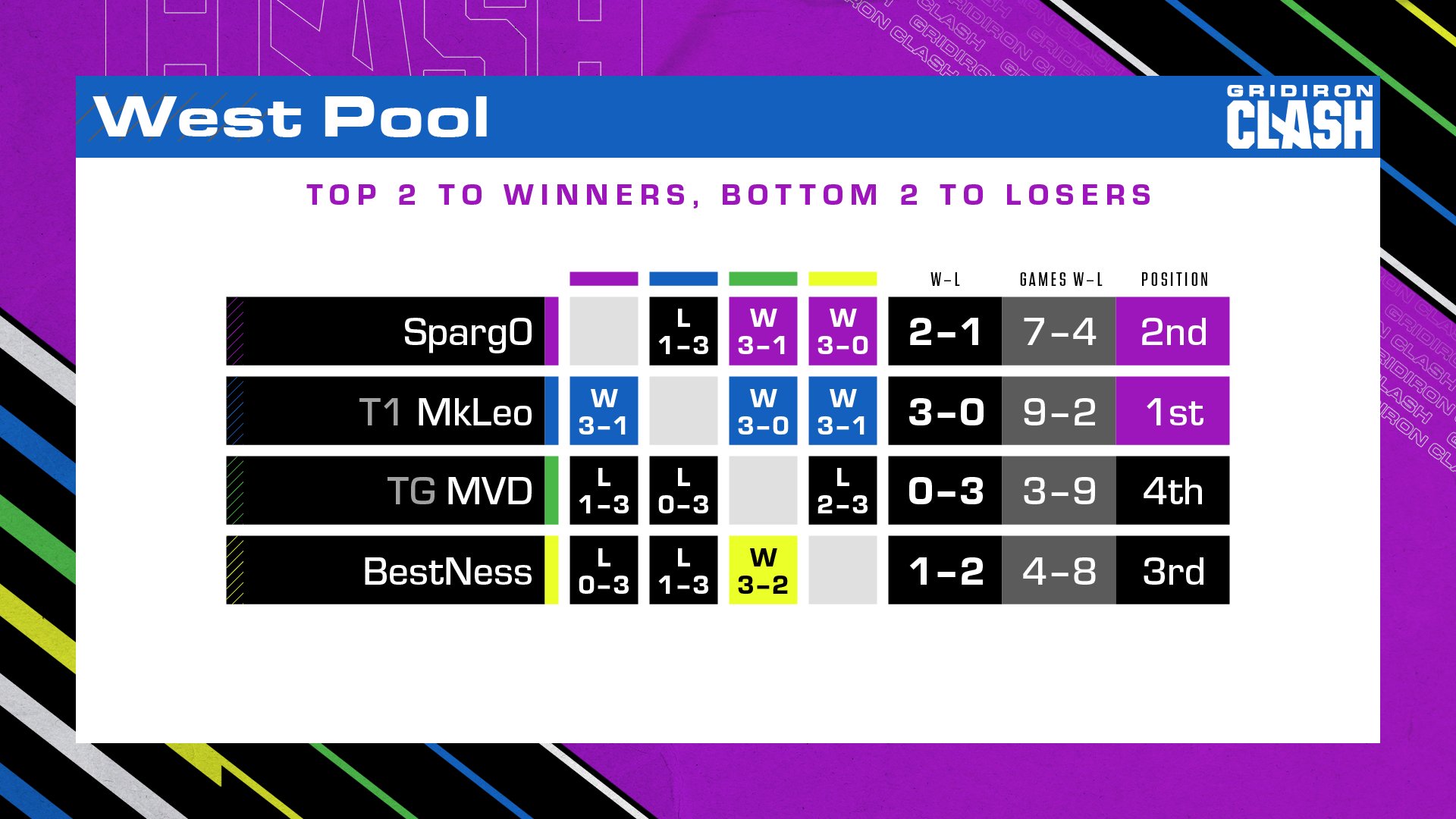 Sunday's matches began with the top side of the losers' bracket, with a set between Jestise "MVD" Negron and Eric "Mr. E" Weber. MVD's Snake had a somewhat poor performance on Saturday, losing every set despite some close matches. However, today was different. He made use of Snake's explosives to set up massive walls of bombs that Mr. E couldn't penetrate, resulting in a 3-0 victory for MVD.
On the other side of the bracket, Spencer "BestNess" Garner and Noah "Sharp" McCulley played using their secondary characters Piranha Plant and Dr. Mario, respectively. While Sharp had gotten second place in the Smash Bowl using primarily Wolf and Joker, it seemed that the two agreed to use their secondary characters. BestNess managed to win the set 3-1 and used the in-game tag "4Sharp" for the rest of the event. 
On the top side of the winners' bracket were Leonardo "MkLeo" Lopez, who won every set he played in the West Coast pool on Saturday, and Bowser specialist David "LeoN" Leon, who had advanced after an upset over Eric "Mr. E" Weber. MkLeo chose to use Greninja over his main, Byleth. While he had used Byleth throughout the entirety of his pool matches on Saturday, his Greninja pick wasn't too surprising, as he's used the character nearly as much as his main in online tournaments this season. The pick seemed to work out for him, as MkLeo quickly went up two games. 
During game three, LeoN shifted to a more conservative, defensive playstyle, focusing on baiting MkLeo into hitting his shield and missing crucial attacks. He used this strategy to put himself on the board after a close game, but he now had to win the next two games on his opponent's stage counterpick. MkLeo quickly adapted to LeoN's strategy, reminding everyone of his status as the top ranked player on the Panda Global Ranking. MkLeo went up three stocks to one and continued to tack on damage as LeoN tried to make a comeback on his final stock. LeoN managed to take two of MkLeo's stocks, but not without taking massive damage in the process. Now one hit away from death, LeoN searched for an opening on MkLeo, and managed to force him off stage. Throughout, MkLeo lost most of his stocks to LeoN's strong attacks at the ledge, so he chose to recover high and jump back to the stage. However, LeoN predicted this, and met him in the air with Bowser's down special, spiking MkLeo into the depths of the blastzone and securing a three-stock comeback. LeoN proceeded to win the set in a much closer final game after punishing MkLeo's panicked escape attempts, knocking the highest-ranked player into the losers' bracket in the first round.
The other side of the winners' bracket had an entirely different story. Samuel "Dabuz" Buzby went up against Smash Bowl champion Edgar "Sparg0" Valdez with Min Min, one of the more recent DLC characters added to the game. Dabuz has been using Min Min in most online events rather than his mains Olimar and Rosalina, and this tournament was no exception. Sparg0 won the first game somewhat convincingly, but the second game was much closer, with both players going to their final stock. Sparg0 won again, and Dabuz decided to switch characters. Seemingly taking inspiration from LeoN, Dabuz attempted to make a 3-0 comeback with Bowser, but Sparg0 quickly shut him down with a two-stock win, ending the set. 
Pivoting back to the losers' bracket, MkLeo had to play against MVD, a player he beat the day before with a 3-1 victory. It was no surprise to see MkLeo take the first game with a two-stock lead, especially now that he was playing Byleth instead of Greninja. MVD responded with a win of his own after putting MkLeo in situations that forced him to get caught in the explosions of Snake's various bombs and traps. Going into game three, MVD seemed to have warmed up, and he began to play much as he did in his set against Mr. E, setting up impenetrable walls of explosions and using his controllable missile to catch MkLeo's recovery. He took game three, and MkLeo chose Pokémon Stadium as the stage for their fourth game. This is the same stage he took LeoN to in the final two games of their set. Much like those games, this pick didn't work well in his favor. MVD had a lead throughout the entire game until the last stock, at which point MkLeo found an opening and began to string together a short combo. However, during this combo, MVD dropped a C4 mine on MkLeo, blowing it up as soon as he could and ending the set with a 3-1 victory. 
In the other losers' quarters match, BestNess, now using his namesake character, played against Dabuz's Min Min. The first game went in BestNess' favor, as he exemplified the shortcomings of Min Min. While she can control horizontal space extremely well, Ness' unique projectiles and aerial movement options made it difficult to pin BestNess down. Game two had a similar result after BestNess used Ness' PK Flash to make an offstage reversal against Dabuz and gain a convincing lead. Game three seemed to be going similarly, but Dabuz caught on to BestNess' movement and made a comeback by catching him with Min Min's dragon laser. This newfound momentum didn't last long, as BestNess took the next game and won the set 3-1. 
In the winners' finals match, LeoN went up against Sparg0. LeoN took the first game after securing an early kill using Bowser's up smash, putting Sparg0 in too great a deficit to recover. The next game was largely in Sparg0's favor as he played around Bowser's large attacks with expert precision, winning with a two-stock lead. The same thing happened in the next game, with Sparg0 managing to avoid all of Leon's defensive reversals while securing kills with Cloud's limit. In the fourth game, LeoN changed his strategy and became the aggressor, interrupting Cloud's attacks before they could come out. This risky strategy worked in his favor, and he tied the score up 2-2. In the final game, Sparg0 reminded everyone why he's the Smash Bowl champion, and won with another dominant two-stock lead. 
In the losers' semis, BestNess won against MVD 3-1. Their set on Saturday, which BestNess also won, was much closer, although BestNess used an assortment of random characters. This time, he used Ness the entire set, making use of PK Magnet to absorb damage from explosives and heal. This made MVD wary of using his projectiles and gave BestNess a much easier time in the matchup. MVD won game three with a few strong forward smashes, which had to be carefully placed due to the attack's slow animation. He interrupted Ness' PK Thunder recovery with Snake's controllable missile, securing the game. During game four, BestNess's aggression got the better of MVD again, and the set was over.
In the losers' finals, BestNess went back to his Piranha Plant against LeoN's Bowser, still using the "4Sharp" tag. BestNess took a convincing three-stock lead, but LeoN made use of Bowser's high damage and knockback, coupled with a bonus from rage, to make another impressive comeback and take the first game. In the next game, BestNess switched back to Ness, and the match started in his favor again. However, an early stock loss followed by a self-destruct evened up the stocks, and LeoN ended the game with a quick combo into a down special to catch BestNess' jump, much like he did in his set against MkLeo earlier. Game three went differently, with LeoN securing a lead and holding onto it for most of the match. He attempted to end the set with an off stage attack that would kill both players, but BestNess lived and returned to the stage. However, as soon as he did, LeoN was waiting for him on his final stock. LeoN forced BestNess back off stage right away, and in an attempt to force him away from the ledge, BestNess tried to use Ness' PK Thunder to hit Bowser. However, by doing so, he put himself too far to grab the ledge and fell to his death, losing his final stock with a self-destruct.
LeoN advanced to grand finals, where he played Sparg0. The first game was quick, as LeoN ended Sparg0's final stock early by using Bowser's side special to carry both players offstage, killing both of them but securing a win for himself. Sparg0 answered back with a three-stock win in the next game, taking even less time than game one. The next two games were much more even, but Sparg0 seemed to have complete control. Doing exactly what he did throughout Smash Bowl, he dictated the pace of the game and maintained his composure throughout the entire set. LeoN couldn't find any openings when he needed them, but Sparg0 made his own openings every time he approached. Although game three was close, Sparg0 only lost one stock in their final game. He took the tournament in a dominant fashion, losing only one set throughout the entire weekend and further cementing his spot as Smash Bowl champion.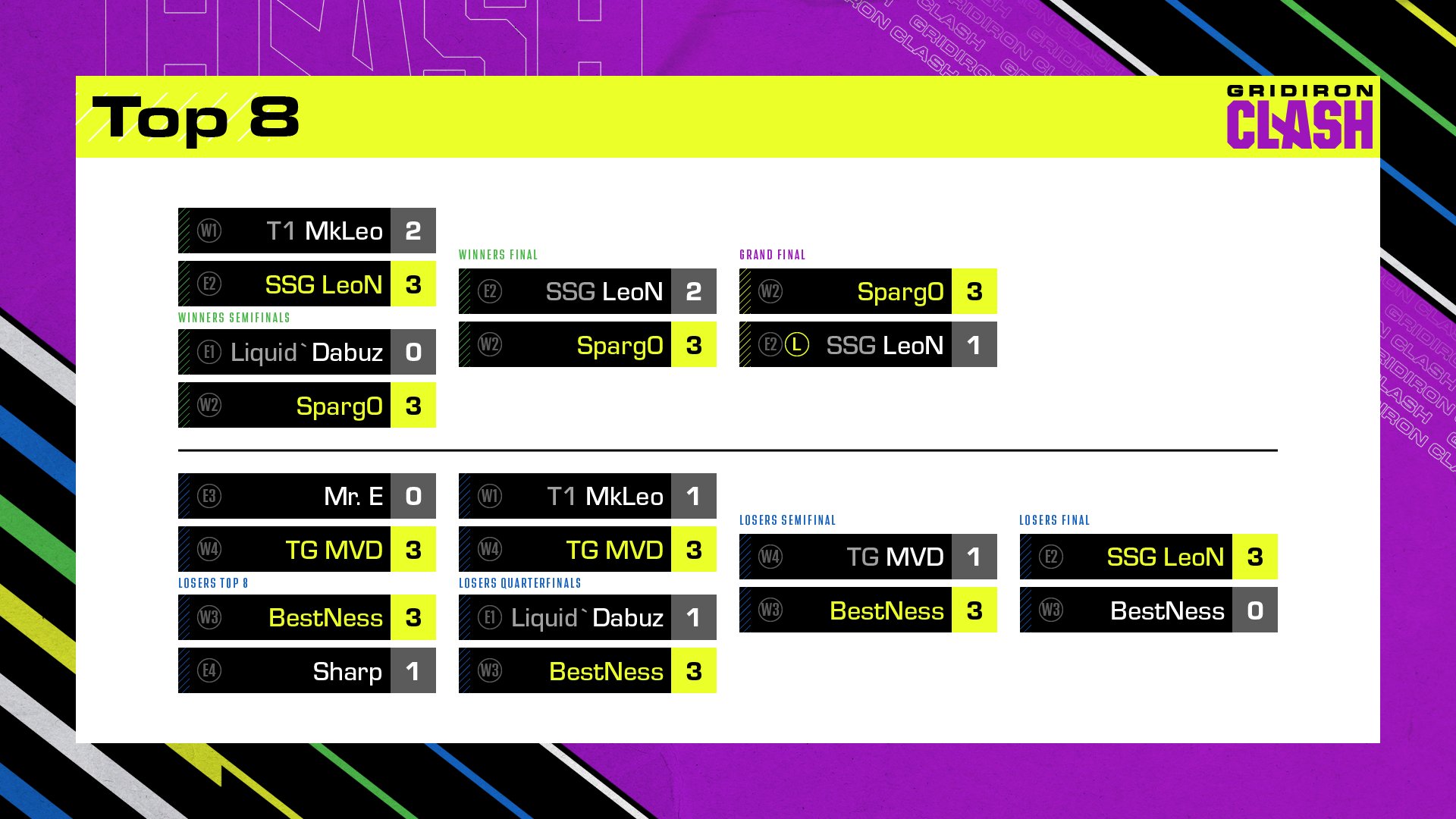 That concludes the analyst's desk tournament recap! Join us for a final article where we'll take a look at some of the rulesets used in Smash Bowl, as well as character and stage trends throughout the entire event!