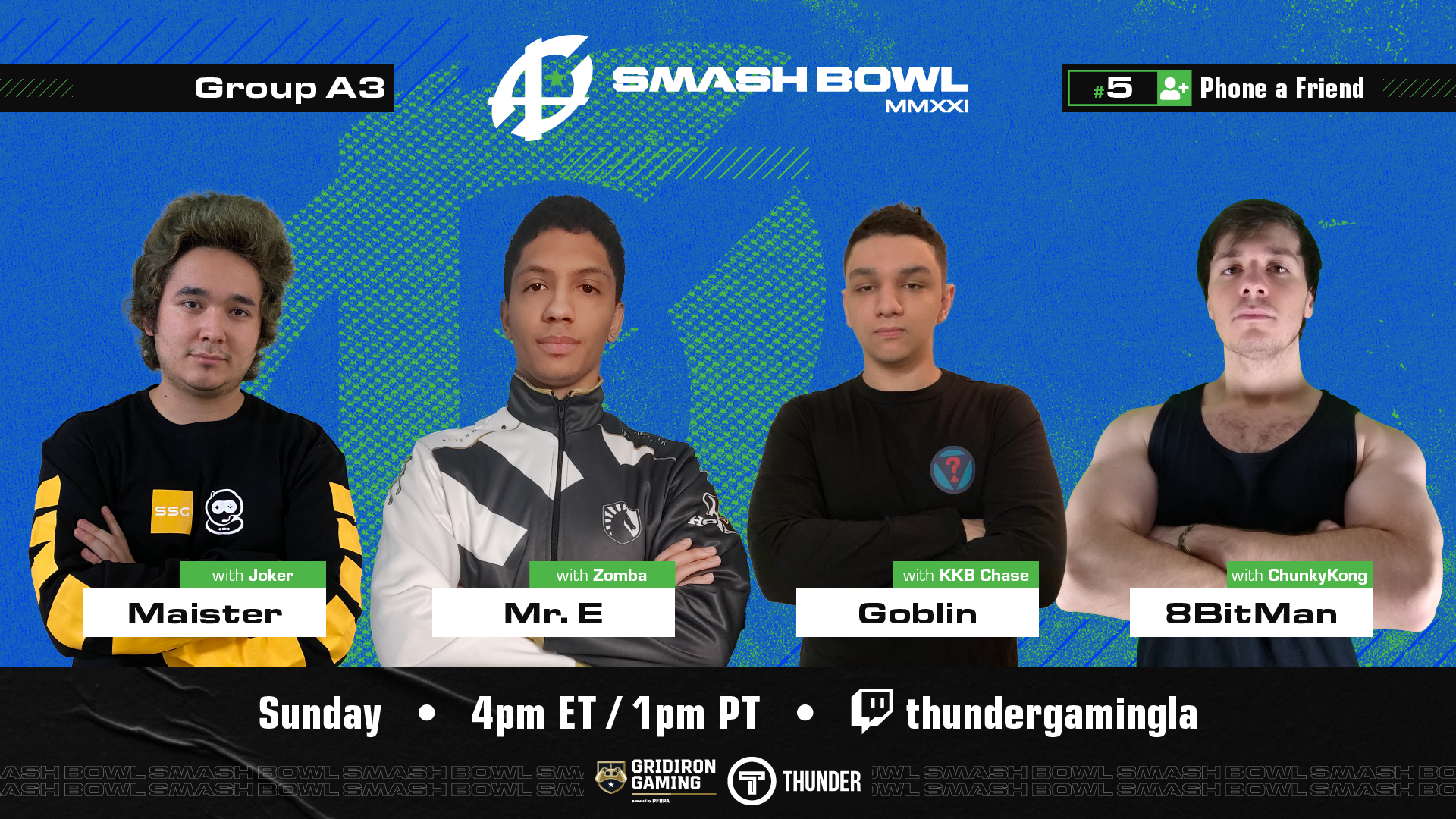 Analysts Desk: Week 3 Recap
The third week of Smash Bowl MMXXI wrapped up yesterday, which means we're back with another recap!
This week, we saw the first of three groups partaking in the "Phone a Friend" ruleset, which is similar to a standard doubles ruleset, in which each player picks a teammate to play in two-on-two matches. Group A3 went mostly as seeded, with Enrique "Maister" Hernández advancing to stage two from the winners' side and Eric "Mr. E" Weber advancing from the losers' side.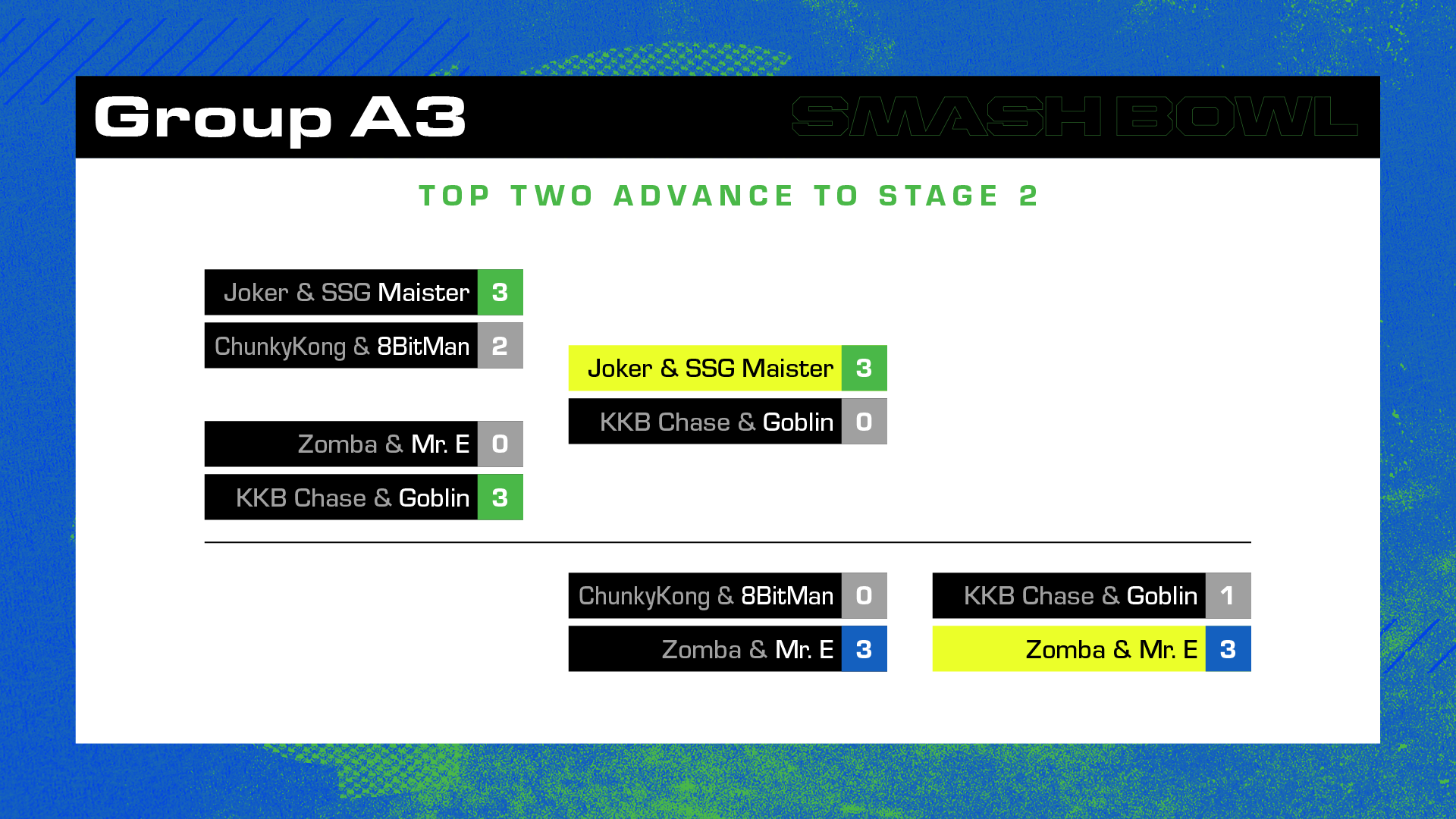 While the final results were expected, there were still some upsets along the way. The  team of Alexis "Goblin" Stennett and KKB Chase took a convincing 3-0 victory over Mr. E and Salvatore "Zomba" DeSena in round one. In each game, Mr. E was forced into a one-on-two situation and couldn't match up to Goblin and Chase's coordinated team combos. 
The other set in round one, Maister and Arturo "Joker" Ochoa vs. Brett "8BitMan" Esposito and Rylan "ChunkyKong" Silva, was the only five-game set in Group A3. Despite Maister and Joker's incredible coordination, 8BitMan and ChunkyKong managed to challenge the first seed team with a close back-and-forth set, showing their unique synergy with R.O.B. and Donkey Kong. To end game two, 8BitMan used R.O.B.'s up throw to lift Joker to the platform, setting up ChunkyKong for a charged neutral B. 
Maister and Joker had a much more convincing win in round 2, taking the set 3-0 over Goblin and Chase. Joker's Samus showed off his reputation as a strong doubles player, spending much of the set focusing on supporting Maister. He also managed to make an impressive two-on-one comeback in game two, ending it with a charge shot snipe from across the screen.
On the other side of the bracket, after losing round one, Mr. E and Zomba changed their strategy and focused on holding down center stage, using Lucina's disjoint and R.O.B.'s strong zoning tools. They had a convincing 3-0 win over 8BitMan and ChunkyKong and went on to win the runback against Goblin and Chase. The two showed off their doubles' experience, working together to clean up stocks and give their opponents a tough time getting back to the stage with their solid space control. Zomba also managed to make an impressive two-on-one comeback during game two in losers' finals, after self-destructing and taking Mr. E's last stock, a move that would normally spell disaster for a doubles team.
Despite this ruleset being the first that didn't involve players having to switch characters, there was still a large variety between teams. Each player stuck with one character, resulting in seven different characters being used between the eight players.
Conversely, despite having nine stages to choose from, the stage variety was extremely limited in Group A3. Of the 18 games played, 13 were on Pokémon Stadium, with only Town and City and Kalos making up the other five. 
However, we might have the opportunity to see more stage variety in doubles gameplay next week, as Group A4 will also be using the "Phone and Friend" ruleset. Group A4 is one of the more stacked groups, consisting of Leonardo "MkLeo" López Pérez, Jestise "MVD" Negron, Myles "Myles" McKenzie and Colin "Colinies" Landals.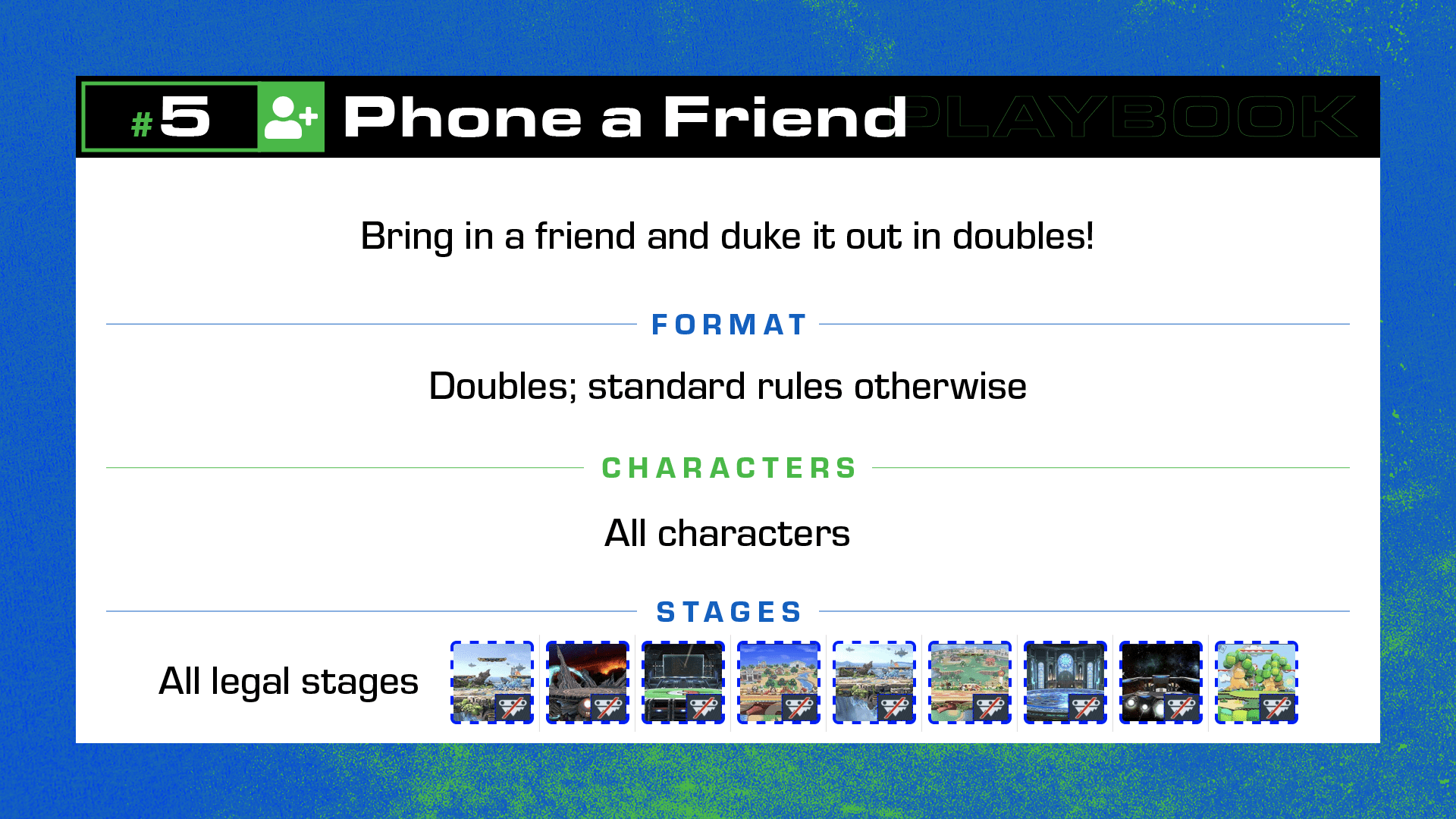 The first seed, MkLeo, has a reputation that precedes him. He's one of the most dominant players in the Ultimate scene, coming in first on the Fall 2019 Panda Global Ranking (PGR). Unlike many of the game's top players, he hasn't let the transition to online tournaments slow him down, coming in at 11 on the Wi-Fi Warrior Rank (WWR). When it comes to online matches, he tends to avoid using his main, Joker, and instead plays Greninja, Cloud, Wolf, Byleth or any of his other strong characters. Given the doubles format this coming weekend, it's hard to say who he'll use.
MkLeo has chosen Abraham "MK Bigboss" Slane Parra, a R.O.B. main ranked 16 on the Mexico Power Ranking, as his partner. While they don't seem to have any doubles history at large events, they're both on the same team, MKGaming, so they likely have some form of experience playing together. We've also seen how effective R.O.B. can be with doubles after the strong showing from Zomba this past weekend.
The second seed, MVD, is another heavy hitter. While he was unranked on the most recent PGR, he was ranked 17 in Spring 2019 and is currently 65 on the WWR. When it comes to doubles, he's known for his results with Eric "ESAM" Lew. However, seeing as ESAM is actually in Group A6, MVD has instead chosen to team with Troy "Puppeh" Wells. Puppeh is unranked on the WWR but ranked 28 on the PGR. While his doubles record with MVD isn't as good as ESAM's, their results are still nothing to scoff at, as they won SwitchFest 2019 together and placed 5th in Frostbite 2020 doubles. Based on their previous teams' matches and reputations as some of the best players with their respective characters, MVD and Puppeh are likely to use Snake and Pokémon Trainer.
The third seed, Myles "Myles" McKenzie, is a Yoshi main often ignored on the national scale. He's not currently ranked on the PGR, but he has entered dozens of online events this year, netting him the number 40 spot on the WWR. What makes him even more threatening outside of his online experience, is his partner. Myles has chosen to team with Rasheen "Dark Wizzy" Rose, ranked 22 on the PGR. He's the highest-ranking Mario main, and  the two have been playing online teams recently, making them more experienced in the Wi-Fi landscape than any of the other players in this pool.
The fourth seed, Colin "Colinies" Landals, is a Young Link, currently unranked on the PGR. However, he's entered the most online tournaments this year out of everyone else in Group A4, and he's ranked 69 on the WWR. He's chosen Calvin "Cilvanis" Carter, a well-known Youtuber and content creator, as his partner. However, while many remember Cilvanis for his videos and social media content, he's also a competent Palutena player, and the two have been teaming with each other at local and major events since Smash 4. 
As mentioned, Group A4 is one of the most stacked pools in this tournament, and the addition of doubles partners complicates things even further. While the pool is still expected to go as seeded, Myles and Dark Wizzy could make some huge upsets, considering both players' skill and experience.
You can watch the action this Sunday, November 22, at 4 p.m. ET/1 p.m. PT on Thunder Gaming's Twitch channel: https://www.twitch.tv/thundergamingla. 

If you'd like to see the bracket, or learn more about the rulesets and format, you can check out our smash.gg page: https://smash.gg/tournament/smash-bowl-mmxxi/details. 
Writer's Note: This article was written in collaboration with Andrew "PracticalTAS" Nestico, Data Analyst.